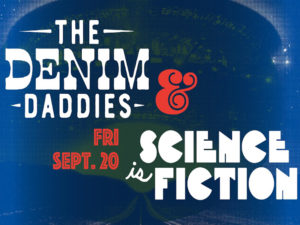 Start your weekend off right with swaggering alt-country act The Denim Daddies and indie rockers Science is Fiction
General admission.
$10 at the door.
Show starts at 9 pm.
About The Denim Daddies:
The Denim Daddies are burning up every stage they grace with outlaw-inspired alt-country that parties as hard as they do.
About Science is Fiction:
Science is Fiction combines laid-back cool lyricism and fevered frenetic rock 'n' roll. The Calgary, Alberta based four piece will be releasing their debut EP Don't Everybody Thank Me At Once at the King Eddy on September 20th – it was recorded National Music Centre in 2018, but you'd be forgiven for mistaking it for 1978. They have been described as "Elvis Costello on steroids" and "a bit Parquet Courts…a bit parent rock". Put on your shades, your tightest jeans, and your deepest V-neck. Science is Fiction, baby.
Sound production equipment for the King Eddy is provided by PK Sound and Yamaha.